Company Profile
All of our signs are manufactured to Underwriters Laboratories specifications and are UL labeled. Lytle Signs, Inc. is committed to keeping abreast of the newest and most effective production materials and procedures. A brief overview of our capabilities includes:
(5) Service trucks, (2) 60' Cranes, (1) 100' Crane, (1) 146' Crane, (1) 70' Crane, (2) scissorlifts, 28' remote control service truck and a 40' service bucket truck.
Twin Falls plant size is 36,000 square feet
Meridian plant size is 10,000 square feet
3 acres of outside storage
Computerized Cad-cam router system for interior and exterior signs, plaques, letters and graphics
Computerized vinyl cutting and pattern making equipment
Large format exterior quality digital imaging system using the Ion Gerber
Color scanning and reproduction
Manufacture electric, neon, plastic, painted and sandblasted signs, and illuminated awnings
Vacu-Forming up to 8 ½' X 16'
State of the art neon glass manufacturing equipment and facility
Manufacture and install custom store fronts and fascia
(2) Spray booths; (1) spray bake system, one of which is 54' in length
Our journeymen in the field and in the plant production are certified welders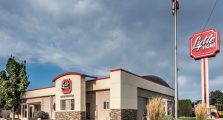 1925 Kimberly Road
Twin Falls, ID
(208)733-1739
1-800-621-6836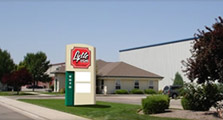 2070 E. Commercial
Meridian, ID
(208)388-1739
1-800-621-6836
HOME | VIDEO | GALLERY | ABOUT | CONTACT
All contents ©2017 Lytle Signs, Inc. All rights reserved.